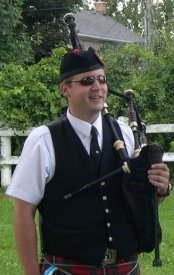 I am from Toronto, Ontario, Canada. I have always lived in or around Toronto except for a brief time that I lived in Phoenix, Arizona. Currently I reside in Georgetown with my wife and my stepkids.
I would describe myself as a professional computer enthusiast. Professional because I have spent my entire career in the Information Technology field as a UNIX and Windows System Administrator. Enthusiast because computers encompass a large part of my hobby time too.
I am also a musician. I play the Great Highland Bagpipe or "bagpipes" as most people know them. I'm currently a member of the Peel Regional Police Pipe Band. If you are interested in learning to play the bagpipes or the drums, please contact me.
Recently I have developed an interest in a new hobby – homebrewing. I started off making a couple of Coopers pre-hopped kits, but have since moved on to all-grain brewing. It has been a lot of learning, but a ton of fun too. I've even gotten into brewing hard apple ciders and have done 3 different wine kits too.
At Pipes Up! you can expect to find articles about any of the above things… eventually.
-Ian